At Legato Internasional we are often asked by customers to restore old or badly damaged brass instruments. Usually, these instruments are no more than 20 or 30 years old. But recently we were given the task of restoring one that was far older. We believe that the trumpet we received was manufactured about 65 years ago by the Selmer company. Founded in Paris 1885, Selmer has long been known for the manufacture of professional saxophones, clarinets and trumpets. 
The serial number engraved on the valve casing suggested that the instrument was produced around 1954. The slides were badly stuck, the valves were sluggish and the second valve slide needed to be replaced. The whole instrument was also very dirty and needed a chemical clean. But it did not have any serious dents of the sort we often see in badly neglected instruments. 
The trumpet had an unusual design that included a dual tuning slide. This design made it easy to convert the trumpet from "Bb" to "C". The feature was typical of the trumpets Selmer manufactured in the 1950s.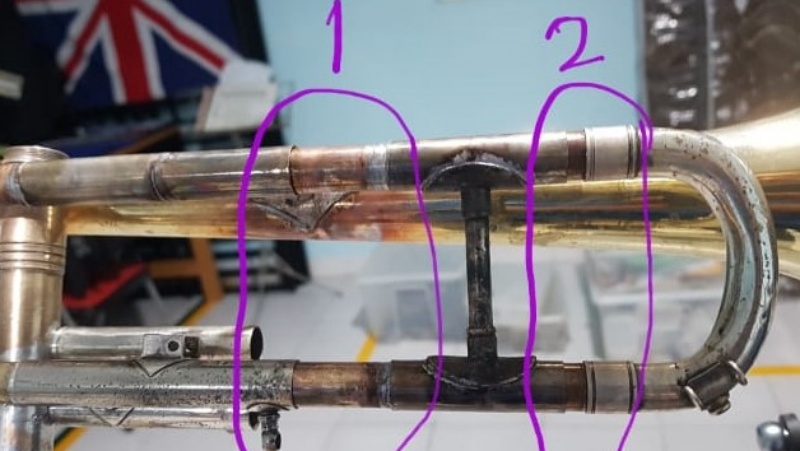 Restoring the trumpet to working condition involved dismantling it. The second valve slide also had to be replaced.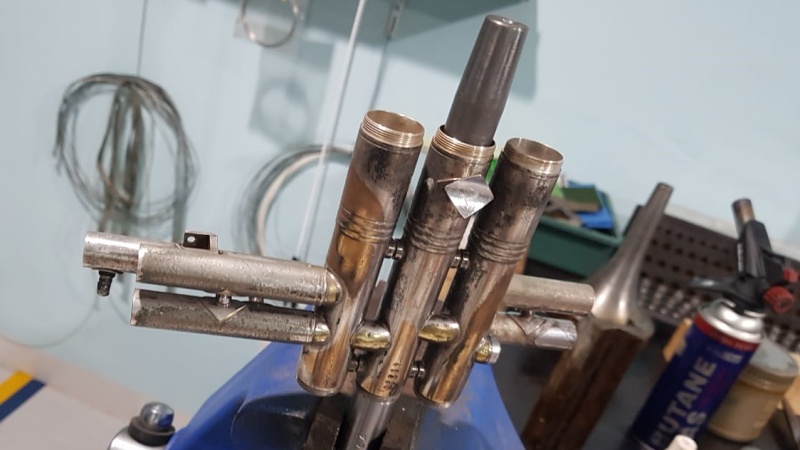 Polishing the bell revealed the words "Sterling" and "foreign", as well as Selmer's classic lyre icon. "Sterling" was a popular trumpet model produced by Selmer in the 1950s. It was known for its deep, rich sound. But the word "foreign" was puzzling. We are not sure if the trumpet was produced in Paris or at Selmer's Braintree factory in England.
But the dual tone colour on the bell helped confirm that it really was a Selmer "Sterling" model. Not many trumpets have this feature. 
 Here is another picture of the restored trumpet. The lacquer showed signs of wear, but the customer did not want us to deal with this problem.